Home
>
Minnesota
>
Rochester
Three Rivers CAP
Website: http://www.threeriverscap.org



Rochester, MN - 55901
(507) 316-0610
Financial Help Provided:
Financial Assistance
Full Description:
Support Services provide a safety net in times of crisis and a road towards self-sufficiency after the crisis has been resolved. Programs connect individuals and families with resources and partner organizations and develop personal relationships through customized and comprehensive service. Three Rivers helps people build brighter, stable futures and stronger communities.
Support Services
Transitional Housing
Housing Assistance
Economic Bridging
Financial Literacy
MNsure Outreach & Application Assistance
Project Community Connect
Supplemental Nutrition Assistance Program (SNAP)
Economic Bridging is a one-time assistance program to resolve short-term crises that cannot be resolved through other means. Funds are meant to remove immediate barriers to housing, transportation, healthcare, and employment by providing financial assistance to bridge a temporary gap. Services provided may include financial assistance for rent/deposit, car repair, emergency medical/dental needs, and utilities.

Households must provide verification of their financial status and verification of their crisis (bill, eviction notice, disconnect etc.) and must reside in Goodhue, Rice, or Wabasha Counties.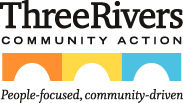 Contact FinancialHelpResources.com
Do you have more to add or need listing updated? Let us know.
---